With digital transformation, you can't get people to eat their own leg!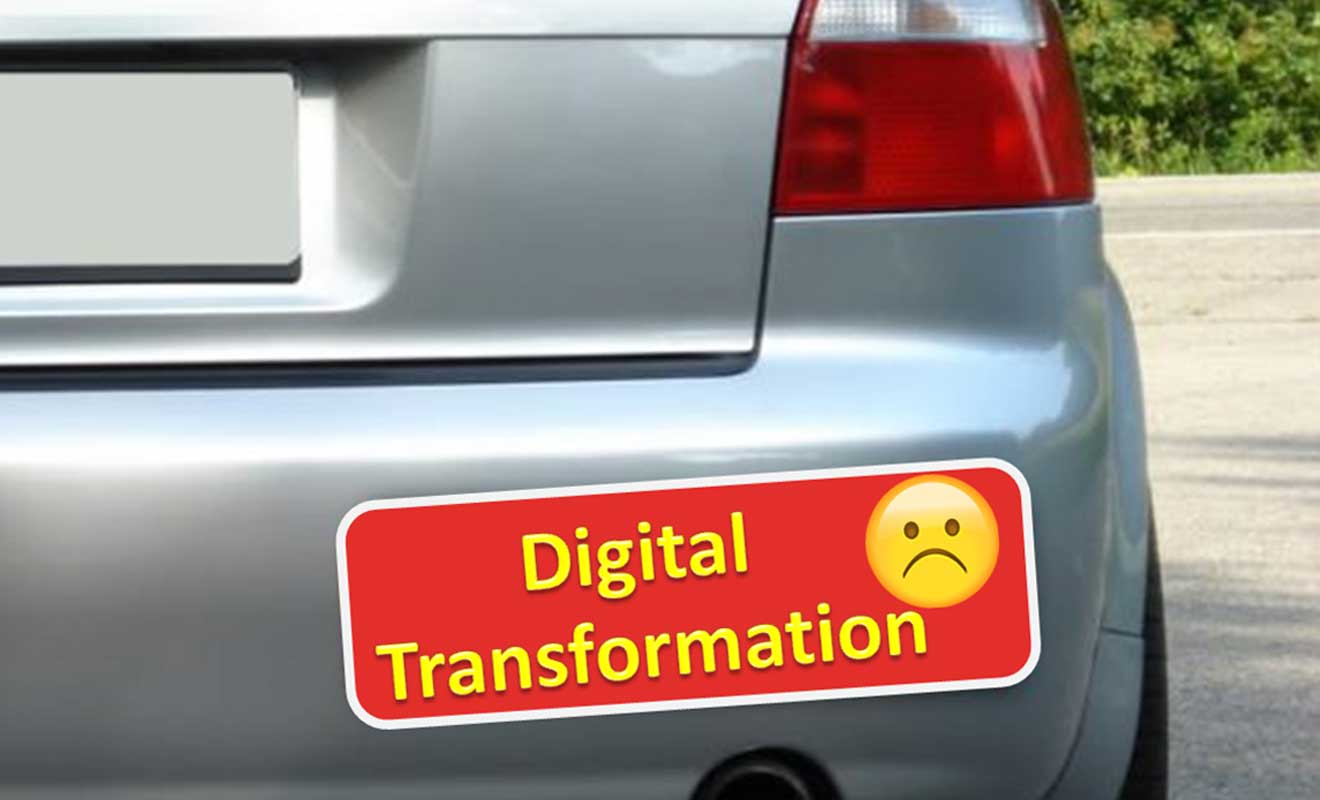 Around fifteen years ago, the big trend in engineering consultancy was 'offshoring' (or Global Design as we called it). The challenge was how to get UK-based staff to agree to push work out to design centres in India and Manilla. We tried lots of ways: targets, bonuses, even skewing the overheads to make the design centres more profitable. But progress was slow and painful. The fundamental truth is that you can't get people to do something that they really don't want to do. Global Design was seen as threatening UK jobs and roles. As my then boss put it rather graphically: "you can't get people to eat their own leg.".
It was only with the downturn of 2008-10 that we started to get some traction with Global Design. As competition became more intense and pricing levels tumbled, India became the saviour for UK engineers. Offshoring became the only way to allow them to put forward a winning bid. Necessity is the mother of invention – and, hey presto!, when Global Design was seen as the way of saving jobs, the work started to flow. The consultancy I was with then now has more than 2,500 engineers in Delhi, Bangalore and Mumbai. It is a fundamental part of the way they deliver design.
As my then boss put it rather graphically: "you can't get people to eat their own leg".
Nearly a decade later, the next big revolution in engineering consultancy is the use of automated software and machine learning to carry out tasks previously undertaken by humans. Richard and Daniel Susskind wrote about it in their 2015 book The Future of the Professions. They said: "Our main claim is that we are on the brink of a period of fundamental and irreversible change in the way that the expertise of these specialists is made available in society. Technology will be the main driver of this change."
We are therefore moving from offshoring to "no-shoring": detailed design will no longer be sent to India as it will be done automatically by rule-based software or through the use of scaleable prescriptive and descriptive building design elements in BIM that can be dragged and dropped from design libraries. So how can we make sure digital transformation is seen as something that people want to embrace, rather than seen as a threat?
When asked that question, I like to answer with a story. It's an imaginary one – but I am sure something like it must have happened. It's 1982 and you work in one of the accountants and auditors of the time. Perhaps Touche Ross and Co. Down in the basement is an army of people with adding machines – manual or pocket calculators – crunching numbers and checking accounts. Then one day, into the partners meeting comes a young and ambitious director. He says: "Hey, everyone. I have just seen something amazing. It's called Supercalc and it's going to change our world."
Would those partners have seen spreadsheets and the accounting software to come as a threat or an opportunity? An answer is to consider whether the partners in Deloitte today are more or less better off than the partners in Touche Ross. Change would have been painful, especially for the people in the basement. But in 2016, Deloitte employed 16,000 people in the UK and generated revenues of £3bn. They are many, many times bigger and more profitable and create much more value for their clients than their 1980s predecessors could have envisaged.
So it will be in engineering design and construction. The design detailing jobs and the production of shop drawings will become as obsolete as the adding machines in the basement. But the value we can create in our industry will soar – through better co-ordination across the project lifecycle, through the creation of a much more dynamic approach to design simulation, and through the use of standard design objects and replication. When our staff can see that, while the future is going to be different, it may well be better, the fear will recede. No-one will have to eat their own leg! I hope it will not take another downturn and a fall in prices for this revolution to arrive.
News How ConstructTech start-ups can break through the sales barrier Or - AI for construction and the impact of Generative Pre-trained Transformer 3 Someone told me that the way to write a successful LinkedIn article was to think 'clickbait' and come up with a crazy,...
News How ConstructTech start-ups can break through the sales barrierAlways try to start from a problem, rather than trying to be a solution in search of one. We work with Construction Technology ("ConstructTech") start-ups. Many are bright, energised teams. Many have...